Gundrilling is a deep hole drilling process that uses a long, thin cutting tool to produce holes in metal at high depth-to-diameter ratios. Gun drilling is effective in diameters from 1 – 50 mm [0.04 – 2.00 in]. A gundrill tool differs from a conventional twist drill by its unique head geometry; a standard gundrill has a single effective cutting edge that removes chips as it advances into a metal workpiece.
The gundrilling process can drill deep holes beyond what is possible with conventional machinery and tooling such as twist drills, by using high pressure coolant for clean chip exhaust, even at extreme depths.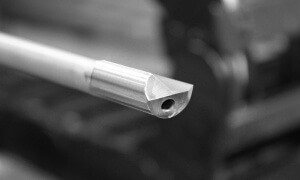 Gun drilling was initially developed for the manufacture of gun barrels, where both straightness and barrel durability were essential to properly functioning barrels. The gundrilling process and tooling have been refined for maximum performance and use on modern, dedicated machinery. Firearms continue to be a common application for gundrilling.
Other industries include diesel fuel components, medical tooling, plastic injection moulds, and more.
TOS VARNSDORF HORIZONTAL GUN DRILLING MACHINE
Capable of gundrilling in many different materials including steel and aluminium and to depths of 1500mm in a blind hole. Deeper thru holes can be achieved by drilling from both sides.
Heater cartridge removal from compression moulds can also be achieved.