How Does Spark Erosion Work?
You start with a workpiece (usually metallic) it could be steel or aluminium. You now need an electrode which can be any shape from a simple cylinder or complex polygon; CNC milled brush head or diaphragm!
The electrode is precisely mounted on the machine head and aligned with the direction of travel. When everything is positioned correctly, the process can then begin. The workpiece is then usually submerged in dielectric liquid. The clever motion hydraulics and electronics allow the electrode to move closer to the workpiece; the small sparks jump between the electrode and workpiece gently cutting your workpiece. A hot plasma known as the spark (electrical discharge) melts the workpiece creating a puddle. It then vaporises a small amount of dielectric creating air bubbles around the spark. This is repeated roughly over 10,000 times in one second.
Clearing the working area is important; the head is located to flush the area, which can speed up the metal removal time. The result is related to the spark size, for example, big and long sparks lead to a bigger depth which gives a rougher surface. The wear rate is related to the removal rate and the slower the removal rate is, the higher the wear. If you are looking for a finer finish then smaller sparks, low removal rates, and higher wear rates are needed. Some copper alloys have been designed for spark eroding and give a greater machinability and better wear resistance.
Here at REV1 Precision, we have a variety of Spark Erosion machines, which are the most efficient machines for dealing with complicated shapes or materials. These machines allow us to add very precise detail to even the hardest of materials.
EDM SPARK EROSION CAPABILITY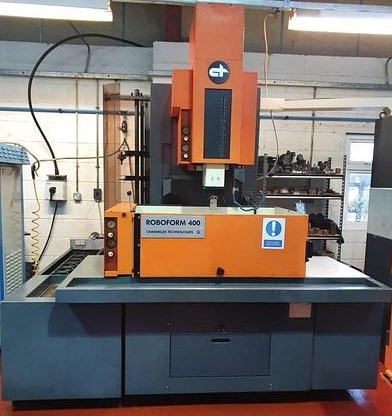 CHARMILES TECHNOLOGIES ROBOFORM 400 CNC SPARK EROSION MACHINE
Table Size: 800 x 560mm
Max Workpiece: 1100 x 780mm
Travels X: 450mm
Travels Y: 320mm
Travels Z: 410mm
STRATHCLYDE STH 130-70 CNC SPARK EROSION MACHINE
Table size: 1400mm x 900mm
Work tank: X 2080mm, Y 1270mm, Z 700mm
Max work piece dimensions: X 2,000mm Y 1,200mm, Z 500mm
Max work piece weight: 5,000Kg
Axis Travel: X 1,300mm, Y 700mm